Testimonials
I simply cannot put into enough words my gratitude for Heather and all the amazing gifts she shares, the knowledge she passes on, not to mention all the support and friendship she has so gracefully shown me. Heather is an energetic powerhouse and has provided me with countless tools to see life with an entirely different perspective. The best part is, Heather leads you to your own inner magic through understanding your soul purpose, introducing you to your team of guides (that you always knew were there!) and provides phenomenal wisdom along the way. Heather's DNA upgrades and activations she creates and shares with us are life changers. To say I highly recommend Heather and all she has to offer is an understatement! Heather and her gifts are extraordinary. A most heartfelt thank you, to you, Heather!
Cheri Delaney
Hi Heather, I just have to share something amazing with you. I listened to your manifestation piece and I plan on doing so everyday from now on. It was super soothing!
I went to bed in tears feeling like the worst loser last night but I did ask my guides for help like you suggested. I woke up this morning in a much happier spirit and baaam this idea popped into my head that I am going to start selling herbal teas. So there you have it. I guess that advice came straight from source.
Have a blessed day and thank you once again!
Malin

Although I met Heather in the summer of '17, I didn't begin coaching with her until May 2018. The shifts I made in 4 weeks have been nothing short of phenomenal. My gifts and abilities have opened up and I'm well on my way to having soul alignment in all areas of my life. If it wasn't for her I'd still be trying to figure things out on my own. When I was doing that I was getting no where fast! I'm not the same person I was 45 days ago and if anyone told me this is who I'd be and what I'd be doing prior to that, there's no way I would've believed them. Heather is a powerful and amazing awakener (coach). Her gifts are otherworldly and I'm so glad that she was able to help me speed up the timeline in getting to this amazing point in my journey! If you're thinking about working with her, stop thinking about and DO IT!! The value she gives is priceless!
Tesia Williams

I couldn't have been more pleased to have found Heather this year. I was so stuck and frustrated about who I was and what I was supposed to be doing on this planet. I was struggling to balance between being an ambitious entrepreneur and being spiritual. Heather's mentoring program was just what I needed and more. When I got in touch with Heather, we connected instantly and I knew she was the right mentor for me. Within 2 days, I was connecting with my guides and Source and receiving answers in a way I'd never done before. The more I tuned in, the more guidance I received and within a couple more days, I started to get downloads. Heather was there all the way through to provide guidance and support, including messaging every day and two video calls to assist with connecting and communicating with my guidance team. She's so authentic and helpful, completely without judgement. It was completely lifechanging and I can't recommend Heather more highly!
Liz

I did finally download this recording and listen to it . The experience was quite fascinating. I could really picture everything. I imagined us standing in front of a being and we handed them a ball of energy which was my spirit. They would reach in and pull out the things that were not serving me. Things were said, but not with words. It was understood that we already have everything we need they aren't adding anything to our DNA, they are simply allowing us or helping us to access it by removing blocks have.
Then they spread the energy on the table and almost massaged it. When this happened I got a huge surge of energy through my whole body. Like I could feel everywhere they were working. They gathered it back up into a ball and handed it back to you and with an understanding message of 'We trust her to help with this'. Like they were saying you were the authorized go-between.
You handed me the ball and helped me to re-assimilate with it. Almost at the same second, your voice came on saying it was time to return or go back down. We took hands and flew down fast, spinning down, we waved goodbye, I went to my body and you to yours. I felt myself rejoin my body and then you got to the part where you said to go back down to mother earth and her warm heart center.
What I found equally as amazing as my imagining experience was how well it all aligned with the timing of your recording. Take care and be blessed!
Desiree Palmer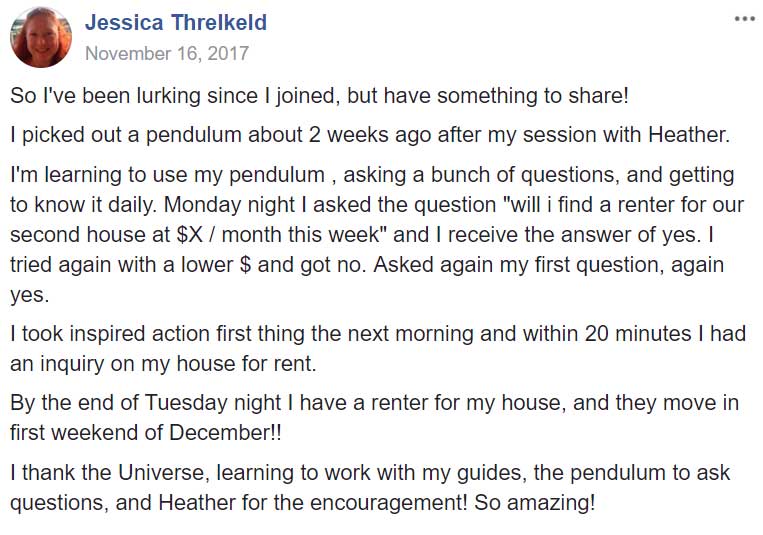 Whoa! Talk about some self realizations / revelations. My 'I can'ts' went back further than I expected. Lots of healing being done. All from the day 1 prompts and our convo last night.
~Epiphany Program
Jessica
I am so impressed with everything you have put out today and I feel incredibly inspired. I'm lookin forward to my alone time tonight to get journaling.
~Evolution Program
Cheri
Thank you so much! I love it already!
~Evolution Program
Jenny
Thank you so much for tonight's class! I had several lightbulb moments.
~Epiphany Program
Malin
Day 1 water complete. Damn! The energy and vibe is massive today!
~Reinvention Program
Cheri